Abstract
'It is a great honor that I hand over the book of the most authoritative international law expert of Georgia, Prof. Levan Alexidze to the Peace Palace Library. It was him, who beginning from early 1950 till present has been developing international legal studies at the Ivane Javakhishvili Tbilisi State University (TSU). Since then international lawyers have always been securing leadership position in governmental, as well as non-governmental institutions in the country. Currently Prof. Alexidze is a Vice-Rector of the TSU and Director of the Institute of International Law of the TSU Law Faculty.'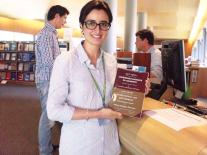 The publication titled International Law and Georgia is a collection of selected papers of Prof. Alexidze and is dedicated to his anniversary, which was celebrated on 5 June this year.  The collection comprises some of his most valuable scholarly contributions, mainly dedicated to problems, with which Georgia has been struggling since regaining independence in 1991. Particular mention should be made of challenges of territorial integrity and aggressive separatism, which, unfortunately, still remain highly problematic issues on Georgia's agenda and which have been his main focus of study and research in recent years. Prof. Alexidze's reflections on these issues are of particular significance and value, for years he has served as a legal advisor of Georgian government and therefore, was directly involved in key processes, which aimed at the resolving of territorial disputes both on national and international levels.
Prof. Alexidze is delighted to donate his new publication to the Peace Palace Library. In 1981 Prof. Alexidze delivered several lectures on the problem of jus cogens norms in international law during the summer courses of the Hague Academy of International Law.  It were his praises of the Hague Academy as place of confluence of the most prominent experts in the field and of highly talented participants in the marvelous environment of the Peace Palace and the City of the Hague that instigated my desire to participate in summer program in public international law of the Academy and which I found to be so true during my stay in the Hague'.
Nino Rukhadze
Professor Levin Alexidze from Tbilisi State University, through Academy Student Ms Nino Rukhadze, generously donated the following publication to the Peace Palace Library:
L. Alexidze, International Law and Georgia: from Antiquity to Present: History, Concepts, Tblisi, Tbilisi State University, 2012.