Abstract
This month, an interview with Jenny Schokkenbroek, a Dutch Judge working for EU missions. After studying Law in Groningen and working as a corporate lawyer, she became a civil judge in Utrecht and Haarlem. In 2009, she successfully applied for the position of international civil judge and served within the EU Mission called EULEX in Kosovo from 2009 – 2012. From 2012 – 2013, she worked for the EU mission Afghanistan (EUPOL) as a legal expert in the field of anticorruption. Judge Jenny fits our series of interviews with international legal practitioners perfectly well.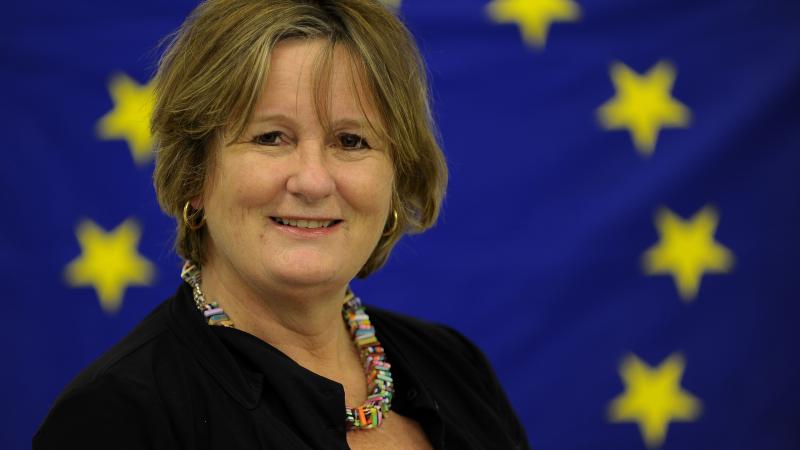 Jenny Schokkenbroek started working as a civil judge in Kosovo in November 2009. She was selected by the EU to take part in the EU Mission called EULEX in Kosovo. EULEX focuses on supporting Kosovo institutions in order to strengthen the rule of law. EULEX started in 2008 and employed almost 3000 people at that time. EULEX employs persons coming from EU countries and supporting countries like the United States of America, Canada, Norway, Turkey and Switzerland. Judge Jenny explains that her main motivation for applying was that the time had come to take on a new challenge. 'After an intense application procedure, I moved to Kosovo three months later'.
'After the international intervention in 1999, the United Nations Interim Administration Mission in Kosovo (UNMIK) provided an international civil and security presence and was governing Kosovo (a former province of Serbia). Kosovo declared its independence in 2008. From 2008 the EU mission is supporting the Kosovo institutions in the field of Police, Customs (border management) and Justice.
Judge Jenny continues to explain that 'EULEXs' initial mandate includes the authority to take over cases from the Kosovo judiciary. This applies to both criminal as well as civil cases.  Its mandate was for civil restricted to property related cases. EULEX is also involved in the in 1999 initiated privatization process. The legal disputes stemming from the decisions made by the privatization agency were adjudicated by a newly established chamber in the Supreme Court. Initially this chamber was presided over by an international judge (both EULEX and Kosovar judges are part of this Chamber).'
The cases that EULEX deals with are highly complicated legal matters with ethnical aspects. Private property as a legal concept was an exception in the former Yugoslavia. Usually, it concerned a long term right of usage. During the early nineties, many Serbians were sent to the province of Kosovo where they were provided with a job and an apartment. As a result, many ethnic Albanians lost not only their jobs but also their accommodation. In 1999 most Serbs fled from Kosovo and left behind their accommodation. Judge Jenny explains that in some cases, the Serbian residents already bought their homes from their employers and in turn sold it to third parties. The amount of housing disputes was huge.
'Administering justice in such cases, is no easy task, Judge Jenny says. You can imagine the legal puzzles that need to be solved. It was a challenge to establish the facts (the cadaster was not complete and a lot of evidence got lost in the turmoil of the events in 1999). I never once came across a case in which, I truly felt that all claims in the procedure had the same level of equality.
The greatest challenge lies in determining which law was applicable. Yugoslavian laws were still applicable. Some Yugoslavian laws were exclusively applicable in Kosovo , including discriminatory elements. UNMIK issued regulations as well.  This obviously resulted in many lacunae and overlaps. And to make matters even more difficult, the available English versions of the Yugoslavian legislation were poorly translated. .'
'This makes the work of an international judge a true challenge. You have to bear in mind the importance of legal certainty and having clear and precise laws especially in the area of property law. As long as property relations remain unclear and there is a lack of proper enforcement, no investment will take place.  Foreign companies will never invest in a country when there is lacking proper legislation and enforcement. In order for Kosovo to flourish as a nation, these matters needed to be resolved.
'Life of an international legal expert in Afghanistan was very different from Kosovo, Judge Jenny tells us. We all lived in a secluded compound, very much isolated from the outside world. We could only leave the compound in an armored vehicle and every moment outside the compound you realized how unsafe it was.'
This particular mission was conducted by the EU (EUPOL).  Their aim is to support and assist police forces and help to improve the security in Afghanistan. After the war, it was decided that Afghanistan should have a police force. Before this, there were only armed forces and war lords, also considered a formal army. EUPOL is involved in training the higher management of the Afghan police.
'The focus of the anti-corruption activities was on training policemen in conducting investigations in corruption cases. How do you lead a police investigation from a legal perspective? How do you draw up a proper police report? The second activity focused on fighting against corruption within the police force. My background in labor law and disciplinary issues suited this activity very well. We set up a public awareness campaign (TV Radio and bill boards) for the purpose of educating the public on these matters. We cooperated regularly with other international players like the UN.
Judge Jenny explains that it is hard to judge the impact of this mission and to evaluate the changes that this may have brought about. 'During my stay in Afghanistan, I have come to realize the extreme difficulties of implementing mostly western democratic values and legal principles in societies so much different from western democracies. In spite of this, I'm positive as I have met many resilient Afghans who were determined to contribute to rebuild their country.
'My work in Kosovo and Afghanistan also made me aware of the universality of many laws and legal procedures. Legal systems are constructed with common sense and the legal thinking that went in to it contains many universal aspects. This applies to civil as well as criminal law.'
Recently, Judge Jenny again joined the EU mission in Kosovo. This time as a judge in the Special Chamber of the Supreme Court of Kosovo. This chamber was established to decide in the disputes arising from the privatization process initiated after 1999.
'I do hope to continue working as an international judge, Judge Jenny says. I plan to work in Pristina in another legal field. 'It was a great opportunity to expand my horizons and broaden my views of the international legal order in which The Netherlands in particular, has traditionally assigned itself a special role to play'. 'When you work as a legal professional in Kosovo and Afghanistan you operate in circumstances very different from your own, usually having modest means at your disposal. This means that you have to think and work in practical and pragmatic terms and adapt easily to your environment. I believe strongly that this experience contributed to my professional as well as personal growth.'
'After returning from Afghanistan, I continued to work for the Dutch Judiciary. I'm still part of the expert team of the Dutch Ministry of Foreign Affairs. A new Kosovo Tribunal dealing with criminal cases will be set up in The Hague. I expect the Dutch government to be willing to support  this Tribunal with Dutch legal professionals . Being exposed to another legal system was an incredibly enriching and rewarding experience for me that I would definitely recommend to every jurist.'