Abstract
'The Peace Palace Library guarantees a boost for your legal creativity'. 
Jimena Viveros studied law at the Universidad Iberoamericana in Mexico City, and half of the programme at the University of Salamanca in Spain. She further completed her Master's in Public International law at Leiden University. It was during the latter that she often visited the Peace Palace Library, especially during her master thesis writing period. Viveros emphasizes the enormous amount of bibliography that the Peace Palace Library offers. Plus, she mentioned that the Peace Palace holds premises of extraordinary beauty to indulge her sight that also serves as a calm refuge guaranteed to boost everyone's legal creativity.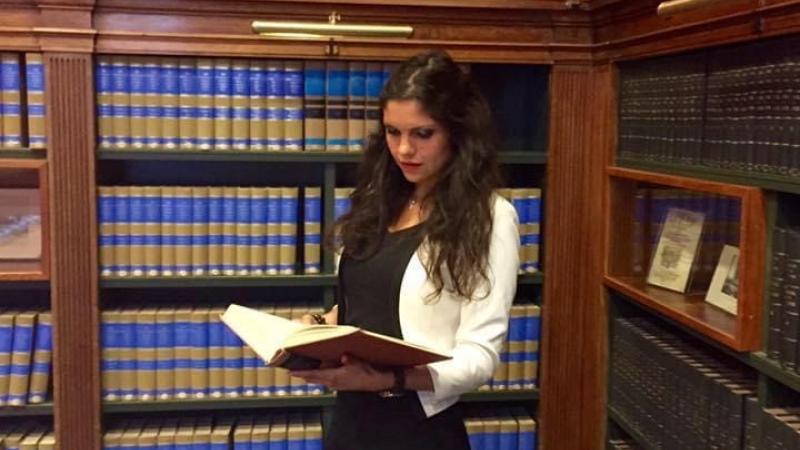 At the moment Jimena Viveros is a legal intern for the Vice President of the International Criminal Tribunal for the Former Yugoslavia (ICTY). As an intern of Judge Agius, Jimena Viveros assists in all four of the Appeal cases he is involved in, three pertaining to ICTY out of which Judge Agius is presiding over one, and one ICTR case. For the last case she volunteered to go to Arusha (Tanzania) for the Appeal Hearings. Viveros' specialization and primary field of interest is international criminal law, therefore she would love to work for the ICC in the future.
Jimena attended The Hague Academy 2014 Public International Law Session, which she found to be a very enriching experience both personally and academically. This year she is invited to be an observer of the Hague Academy Model United Nations on Universal Jurisdiction; a very fascinating topic as she dedicated her entire section of her master thesis to it. Viveros thinks that the simulation exercise leads participants to a better understanding of the work of the United Nations and to think about their career opportunities.
And that is why Viveros concluded her interview with the following quote: "Where there's a will there's a way, impossible is nothing!".