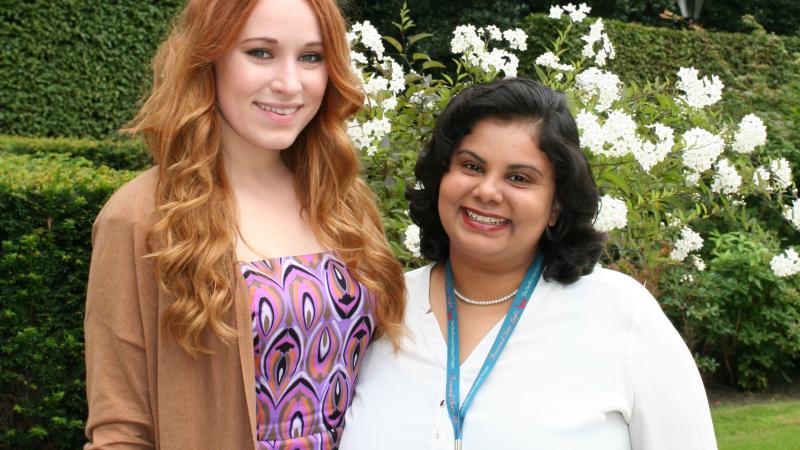 Victoria Arabina, PhD Candidate, Moscow State University, Projects Director, Business Environment of Sberbank, Russia.
When I first came to The Hague Academy of International Law, I was 23 years old. After living in a big city my whole life where every second counts, I remember feeling confused about lawyers from all over the world living in a such a calm and peaceful place. A week later, it all made sense to me. The Hague is definitely a city that stands out, a city of great ideas and a bright future, a city that unites people from all over the world, who are progressive and aspire to inspire others, not only with their words and papers, but also with their deeds.
It is a city of remarkable culture, beautiful architecture and of course the worlds' best law and justice institutions. During my first Academy Course in 2013, I met fellow students whom I consider my dearest friends and who I still – in spite of the distance and business - communicate with on a daily basis. In fact, in my opinion, the people around you are definitely the most significant thing that the Academy provides you with.
So coming back to the Academy this year, I was definitely excited not only for the course itself – which by the way, provided us for the first time that with an opportunity to attend special courses on Comparative law as well as European law- or work in one of the best libraries in the world, but also to experience the same feelings of happiness and engagement once again. Interacting with people from all over the world truly is an invaluable experience because they are interested in the same issues as you are and in the process, also become your true friends, mentors and colleagues.
All this though would be not be possible without the daily efforts of the administrative team of the Summer School; the Secretary-General, the Deputy Secretary-General for Administrative Affairs as well as the Curatorium and Administrative Team; thank you for your daily work, for maintaining and developing this amazing institute on on a daily basis.
This year, we were fortunate to attend the lectures of the best representatives of the academic world. I would like to thank professor Thorn, professor Nourissat, professor Da Gama e Souza, professor Chedly, professor Pertegás, professor Marchisio, professor Hellner, the Directors of Studies, Ms. Sabine Corneloup and Ms. Maxi Scherer and Mr. François Mailhé for their remarkable courses and guidance that raised questions on recent trends in private international law. And of course, a special thank you to professor Symeonides for an outstanding General Course.
As to the benefits of being an attendee of the Academy, our experience wouldn't be complete without having access to a collection of best materials in the field of international law. Thank you to our library friends for taking care of our daily needs and quests for academic knowledge.
It must be also mentioned that our experience of the Academy wouldn't be complete without the efforts of AAA team. Thank you for your help and for the great activities that helped us to fully enjoy the charm of staying in the city of peace and justice. In conclusion, I would like to say that the Academy indeed is a place that you want to come back to as it contributes to making The Hague your second home, a place of personal and professional growth and development.
Brien Stelzer from Toronto, Canada
The Hague Academy of International Law is an incubator for professionals and students dedicated to developing their understanding of international law. Accordingly, the Academy provides the best support for its students, including the one and the only Peace Palace Library.
The Peace Palace Library boasts a world-class catalogue of resources that you can access on your first day. And, like the Library's catalogue, the Library's personnel are extraordinary. Their willingness to help mirrors the zeal of each attendee's quest. In my research of enforcement of jurisdiction clauses between private entities,  the library personnel inspired extra research, so much that, for me, the essence of the Peace Palace Library became two-fold: to find answers and to inspire new questions.
And so, between musing strolls around the enchanting Peace Palace gardens, engaging luncheons with fellow attendees, or surfing until sunset at Scheveningen Beach — each contributing to your experience in Den Haag — the Peace Palace Library and its caretakers stand ready to support and inspire outstanding scholarship.
The Hague Academy of International Law offers an experience I will reflect upon for years to come. It was an honor and my pleasure to be selected to attend this year's Private International Law program.
In closing, I would like to congratulate Professor Yves Daudet, Secretary General of the Academy, for his guidance and leadership. His direction for The Academy, a center that upholds such cardinal virtues as peace, democracy, tolerance, and hospitality, has left an indelible mark on all of its attendees.
Congratulations & best wishes to Professor Daudet and my fellow attendees!
Daniel Akinmade Emejulu – Barrister at Law from Nigeria, LLB, School of Oriental and African Studies, London, UK, LL.M, Duke University, USA
Today, if you are a lawyer or a law student, international law is probably on your radar, or part of your core work – even if you do not fully specialize in the field. I believe this trend will continue in the future. Many of us came to The Hague Academy of International Law with this foresight. My interest in international affairs and diplomacy inspired me to better appreciate how international law is evolving to meet modern challenges. At the Academy, international law is delineated on two fronts: (i) public international law, which is the law that governs relations (primarily) between states; and (ii) private international law, which is the law of solving legal problems which have parties/contacts in more than one country. I came to study private international law, because it is where modern businesses often interact with laws and governments across borders. This particular alchemy is exactly where my passions come together.
The Academy was the best place to learn about this topic. Beyond its long-esteemed history of training lawyers since the League of Nations era, the Academy enjoys a special distinction within the community of international law. The Academy is located in the same premises as the Peace Palace. To provide context, the Peace Palace is home to the United Nations International Court of Justice (once called the World Court). This is where international law disputes between all 193 UN member states can be solved – peacefully – on matters ranging from maritime disputes to diplomatic relations. So imagine the gravity of being further educated in international law in the same location of the ICJ – the judicial heart of the United Nations and modern international law. It's a humbling moment for anyone who has studied law, in one of these 193 members states, for example. The Peace Palace is also home to the Permanent Court of Arbitration (PCA), which settles global disputes that typically include a business investor and its host country government. This was another highlight for me, and I gained valuable insights from Brooks Daly, who gave a seminar during the private international law course.
As if that was not enough, the Peace Palace Library is also in the same premises, and it is a highly revered library. The library has a collection with over 1 million volumes that are highly specialized in international law. It has accumulated this collection since 1923. I was able to read extensively about how private international law operates in my home country, Nigeria, on matters ranging from enforcement of foreign judgments, contracts, bills of exchange and intellectual property, among others.
I first learned about the Academy in 2008. I saw its famous Summer Courses poster in the law faculty of my undergraduate school. I was admitted in 2010 and 2013, and eventually, in 2016, I was finally blessed with the time and opportunity to attend. I made great bonds with people on the course; met new contacts and we had professors from Belgium, Brazil, France, Germany, Greece, Italy, Sweden and Tunisia. We enjoyed organized visits to international organizations in The Hague such as the International Criminal Court and the OPCW. We were also the last set of participants under the era of Secretary-General Yves Daudet, whose legend is inspiring. It was a special experience all-round, and I would truly recommend it.
Irène Nguelewou Matho, Juriste doctorante à l'Université de Yaoundé II, Cameroun.
Dès l'annonce de ma sélection en tant qu'auditrice de l'Académie de Droit International de La Haye, ma joie a été immense car, cela me paraissait difficile dès la lecture du formulaire de candidature. Participer à cette session de l'Académie m'a permis de bénéficier des ressources intellectuelles et documentaires de la place, nécessaires pour ma thèse et ma future carrière. Ils provenaient en effet des enseignements et échanges effectués par les grands maîtres de droit international, mais aussi des auditeurs venus d'horizons divers et ayant en commun "l'esprit internationaliste". De plus, une documentation de pointe mise à notre disposition dans la bibliothèque de la place n'a fait que confirmer le fait qu'elle est l'une des plus fournies en droit international dans le monde. Ayant vécu une telle expérience de nature exceptionelle, je ne saurai exprimer mes sentiments en oubliant de remercier ceux qui m'ont permis d'une façon particulière à y participer et à passer un agréable séjours. Ces remerciements vont à l'endroit du staff dirigeant de l'Académie, des donnateurs de bourse, des enseignants camerounais et étrangers, des représentants des organisations internationales, la Fondation africaine de droit international, les staff de la bibliothèque et de l'AAA, ainsi que l'ensemble des auditeurs. Prenant ainsi une meiulleure mesure du droit international, mes perspectives sont dorénavant différentes et je souhaite renouveller cette expérience unique en son genre.
Johnny Junyu Chen, Student passionate for international law from China, Hampshire College, Amherst, MA (USA)
"I have always imagined that Paradise will be a kind of a Library."
People come to the Peace Palace for plural interests. The Library is one of them. Our librarians, for example, Candice and Niels, have been very inspirational. They gave us important guidelines on how to use the library. And they handle various catalogues efficiently. Books and journals are accessible. Inside the Library, I enriched my mind so much on the subject of private international law and also through my dialogues with scholars on a variety of legal issues. An additional delight to spend your summertime in the Reading Room is that you are well taken care of by the air conditioning.
The Academy is also a forum for dialogues. Dialogues happen here every day, among people, young or senior, East or West. With dialogues, we circulate knowledge and ideas. Courses, lectures, and seminars expand my scope of interest. I learned the development of conflicts of laws. With dialogues, we recognize the difference among us. Yet we find common passion: knowledge, peace, hope for a better future, and of course, sunshine and the beach.