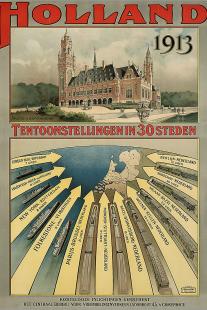 A second poster marking the inauguration of the Peace Palace in August 1913. In several advertisements that year, travellers from abroad were invited to come to The Netherlands:
'Come to Holland in 1913! Holland will celebrate the 100th anniversary of her Independence with Festivities of every description - Pageants, 30 Expositions of Industry, Art, Shipping, Agriculture. This year will mark the Inauguration of the Peace Palace at The Hague. The formal dedication of Carnegie's Royal Gift will be attended by the ceremonies its world-wide importance demands. This is the Year to Visit Holland!' On this poster attention is drawn to Holland's many connections over land and sea with the world abroad.
Catalogue description: 'Holland 1913. Tentoonstellingen in 30 steden. Kostelooze inlichtingen verstrekt Het Centraal Bureau voor Vreemdelingenverkeer L.Voorhout.45.'s-Gravenhage'. Dutch poster, 990 x 700 mm. Dated 1913. Printer: Lankhout.
Peace Palace Library | Poster collection