Abstract
This month marks the 69th Anniversary of the Nuremberg Trials. The Peace Palace Library has an extensive collection of publications on the Nuremberg trials. Some years ago, at a book auction, the Library purchased a fascinating box containing documents which belonged to Austrian journalist Peter Martin Bleibtreu. He was an Austrian correspondent for a Vienna newspaper and covered the war crimes trial of Hermann Göring and twenty other Nazi leaders in 1945-1946.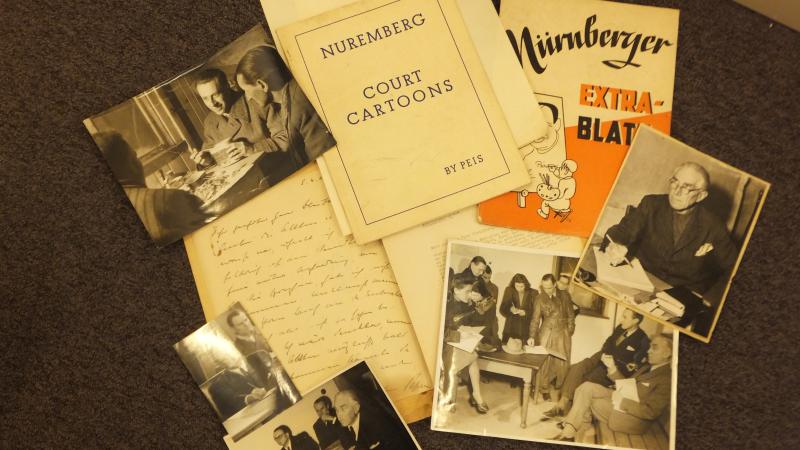 The box contains reports of the trials, specials files and photographs of high profile Nazi officials such as Hermann Göring, Rudolf Hess, Franz von Papen, Wilhelm Keitel, Hans Frank, Joachim von Ribbentrop and many others. It also includes binders with newspaper clippings related to the trial and original documents of pleadings in the trial of the USA against Ernst von Weiszaecker und Genossen in 1948. The box also holds correspondence letters with family members of the Nazi officials.
Two notable finds are rare copies of journals about the trials. These are:
Nuremberg Court Cartoons; this publication by Günther Peis  contains photographs of the judges and prosecutors as well as cartoons of the defendants.                                                                                                                                                                                     
The Nürnberger Extra-Blatt," eine kleine Sammlung in Wort und Bild von humoristischen Beiträgen deutscher Berichtserstatter beim Nürnberger Prozeß November 1945-September 1946". Only three hundred copies were published at the time. This publication was the second copy.
In addition to Nuremberg memorabilia, Peter Martin Bleibtreu also kept a diary of his personal impressions of the trial.  So, who really was this Austrian journalist by the name of Peter Martin Bleibtreu? It turns out that Mr. Bleibtreu was quite an interesting character himself. He claimed to have provided the cyanide capsula for high-profile Nazi official Hermann Göring by fixing it with chewing gum on the defendant's desk in the Nuremberg Courtroom. However, this claim was considered to be false according to the American newspapers from that period.
These interesting files on the Nuremberg trials are accessible in the Reading Room of the Library. In case you're interested in consulting these documents please send an email to library@peacepalace.org
N.B. The original official documents of the Nuremberg Tribunal are in the archives of the International Court of Justice.