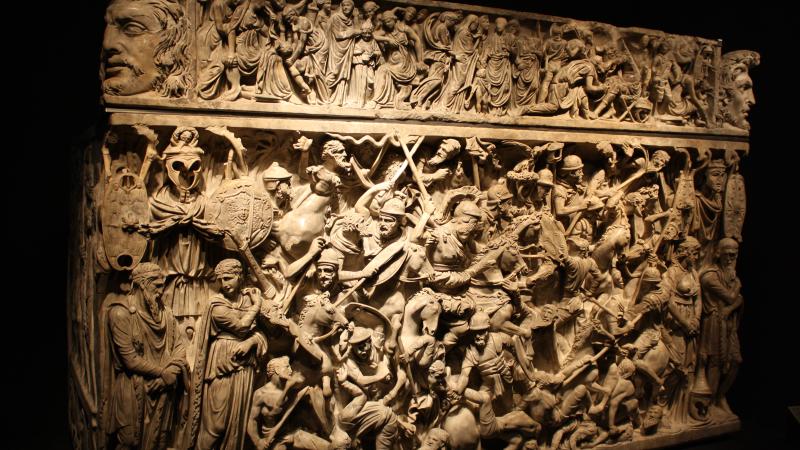 Abstract
War is a state of organized, armed and often prolonged conflict carried on between states, nations, or other parties typified by extreme aggression, social disruption, and usually high mortality. In addition to the existence of this organized behavior pattern amongst human primates, very similar organized warlike behavior patterns are also found in many other primate species. The set of techniques used by a group to carry out war is known as warfare. An absence of War is usually called Peace. In the 1832 treatise On War, Prussian military general and theoretician Carl von Clausewitz defined war as follows: 'War is thus an act of force to compel our enemy to do our will'. Polemology is the study of human conflict and war.
Text
The history of Peace is as old as the history of humanity itself, and certainly as old as War. War is often thought to be the natural state of humanity, Peace of any sort being fragile and fleeting. However, Peace in its various forms has been by far humanity's more common experience, as much of history has been relatively peaceful and orderly, while frameworks for security, law and justice have constantly been advancing. Thus, over the centuries the concept of Peace has been broadened from the absence of overt violence and war to something much more sophisticated, incorporating terms such als peacemaking, conflict resolution, and statebuilding.
This Research Guide is intended as a starting point for research on War and Peace. It provides the basic legal materials available in the Peace Palace Library, both in print and electronic format. Handbooks, leading articles, bibliographies, periodicals, serial publications and documents of interest are presented in the Selective Bibliography section. Links to the PPL Catalogue are inserted. The Library's subject headings (keywords) War, Peace and War and Peace Research are instrumental for searching through the Catalogue. Special attention is given to our subscriptions on databases, e-journals, e-books and other electronic resources. Finally, this Research Guide features links to relevant websites and other online resources of particular interest.