Text
The law of international watercourses, or international water law, is an international legal framework, including both navigational and non-navigational uses, as well as its historical evolution. In recent years rules have been developed and codified through the work of the United Nations, non-governmental organizations, institutions and associations for international law, including the International Law Association (ILA) and the Institut de droit international (IDI). Central is the work of the UN International Law Commission (ILC), which led to the adoption of the Convention on the Law of the Non-Navigational Uses of International Watercourses, adopted by the UN General Assembly in 1997. The entry into force of this convention and the recent amendment of the UNECE Convention on the Protection and Use of Transboundary Watercourses and International Lakes (Helsinki, 17 March 1992) to open it up to non-UNECE States have given a boost to this field of international law. As water scarcity and increasing environmental pollution will inevitably result in more disputes over international watercourses in the future and, at the extreme, in armed conflict, the further codification and progressive development of the law of international watercourses is essential to prevent this.
This Research Guide is intended as a starting point for research in the field of the law of international watercourses. It provides the basic legal materials available in the Peace Palace Library, both in print and electronic format. Handbooks, leading articles, bibliographies, periodicals, serial publications and documents of interest are presented in the Selective Bibliography section. Links to the PPL Catalogue are inserted. The Library's subject heading (keyword) Water is instrumental for searching through the Catalogue. Special attention is given to our subscriptions on databases, e-journals, e-books and other electronic resources. Finally, this Research Guide features links to relevant websites and other online resources of particular interest.
Librarian's choice
Publication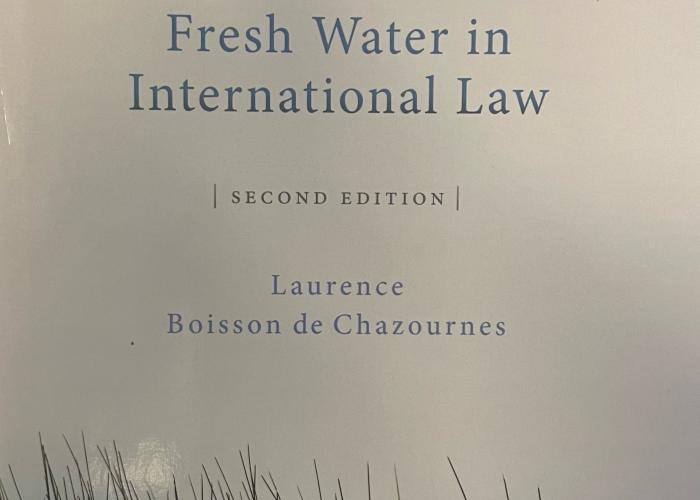 This book addresses the diverse ways in which international law governs the uses, management, and protection of fresh water.
Publication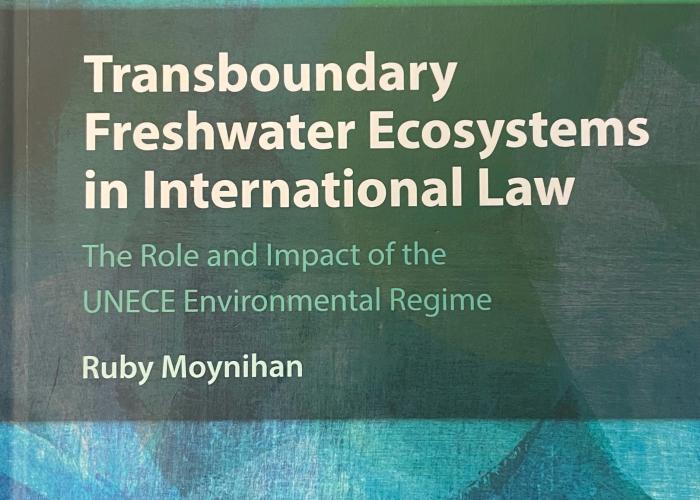 A global water crisis with far-reaching and interconnected environmental, social, health and economic impacts threatens the world. Healthy ecosystems and ecosystem services are degrading, and access to a sustainable water supply is increasingly inequitable both within and between States.
Publication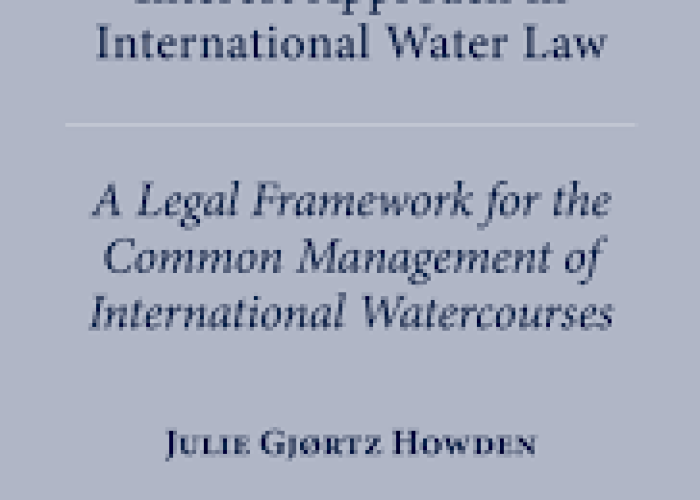 In The Community of Interest Approach in International Water Law, Julie Gjørtz Howden identifies the normative elements of the community of interest approach (COIA) in international water law, and demonstrates how the approach can provide a legal framework for common management of intern
Bibliography manually
Sources of international law
Treaties
Case-law
B. International Court of Justice
Gabčíkovo-Nagymaros Project (Hungary/Slovakia)
Judgment of 25 September 1997; ICJ documents; PPL keyword: Gabčíkovo-Nagymaros Project (Hungary/Slovakia)
D. Selected books
UN Declarations and Resolutions
The resolutions and decisions of the United Nations General Assembly and Security Council may provide valuable information on water issues. Although they cannot themselves constitute international law or serve as conclusive evidence of a rule of customary law, such resolutions do have value in providing evidence of existing or emerging law. This point of view has been acknowledged by the International Law Commission.
As every Member State has been recognized and has a vote in the UN General Assembly, finding General Assembly resolutions that passed unanimously or near-unanimously may serve as an excellent starting point in the legal research process. Pay attention to the language of the resolution. Those with firm obligations versus those that are merely aspirational or advisory in nature are more likely to be considered valuable as evidence of customary international law.
→ Official Document System Search. ODS is the UN's Official Document System. You can search for UN declarations, resolutions and other documents by keywords, then narrow your search.
→ Start Your Research: (7) Resolutions and Decisions of International Organizations.
Soft law
Reference works
Selected books and articles
Periodicals, serial publications
Bibliographies
Links databases
International Watercourses, by Stephen C. McCaffrey.
International Watercourses, Environmental Protection, by Stephen C. McCaffrey.
Equitable Utilization of Shared Resources, by Lilian Castillo-Laborde.
Groundwater Protection, by Mechlem.
Water, Right to, International Protection, by Eyal Benvenisti.
Search the Encyclopedias with the keyword water and you will find a variety on topics, such as Colorado River, Great Lakes, Indus Water Kishenganga Arbitration (Pakistan v India), Jordan River, Lac Lanoux Arbitration, Lake Chad, Nile River, Rio Grande, Scheldt River, Tigris and Euphrates Rivers, Zambezi River, etc.
A trusted reference work in international law, the Max Planck Encyclopedia of Public International Law, as well as the newly-launched Max Planck Encyclopedia of International Procedural Law. The two Encyclopedias can be searched and browsed together, or separately by using appropriate filters.
The Lecture Series contains a permanent collection of lectures of enduring value on virtually every subject of international law given by leading international law scholars and practitioners from different regions, legal systems, cultures and sectors of the legal profession. Lectures on the Law of International Watercourses by Stephen C. McCaffrey, Salman M.A. Salman, Chusei Yamada and Eyal Benvenisti.
Links other
Amazon Cooperation Treaty Organization (Bolivia, Brazil, Colombia, Ecuador, Guyana, Peru, Suriname, Venezuela)
Autonomous Binational Authority of the Basin of Lake Titicaca (Bolivia, Peru)
Border River Commission between Finland and Sweden (Finland, Sweden)
Dirección Ejecutivo de la Comisión Trinaional para el Desarrollo de la Cuenca del Río Pilcomayo (Executive Directorate of the Trinational Commission for the Development of the Pilcomayo River Basin) (Argentina, Bolivia, and Paraguay)
Finnish Norwegian Transboundary Water Commission (Finland, Norway)
Genevese Aquifer Management Commission (France, Switzerland)
Great Lakes Commission (Canada, United States)
Guadiana River Commission (Spain, Portugal)
Intergovernmental Coordinating Committee of the River Plate Basin Countries (Argentina, Bolivia, Brazil, Paraguay, Uruguay)
International Boundary and Waters Commission (United States and Mexico)
International Commission of the Congo-Oubangui-Sangha Basin (Cameroun, Central African Republic, Congo, Democratic Republic of Congo)
International Commission for the Protection of Lake Geneva (France, Switzerland)
International Commission for the Protection of the Danube River (Austria, Bosnia and Herzegovina, Bulgaria, Croatia, Czech Republic, Germany, Hungary, Moldova, Montenegro, Romania, Serbia, Slovakia, Slovenia, Ukraine)
International Commission for the Protection of the Elbe (Germany, Czech Republic)
International Commission for the Protection of the Rhine (Germany, France, Luxembourg, the Netherlands, Switzerland)
International Joint Commission (United States and Canada)
International Meuse Commission (Belgium, France)
International Sava River Basin Commission (Bosnia-Herzegovina, Croatia, Slovenia, Yugoslavia)
Interstate Commission for Water Coordination of Central Asia (Republic of Kazakhstan, Kyrgyz Republic, Republic of Tajikistan, Turkmenistan, and Republic of Uzbekistan)
Joint Rivers Commission (Bangladesh and India)
Lake Chad Basin Commision (Chad, Cameroon, Niger, Nigeria)
Lesotho Highlands Water Project (Lesotho, South Africa )
Mekong River Commission (Cambodia, Laos, Thailand, Vietnam)
Moselle Commission (France, Germany, Luxembourg) (French, German)
Niger Basin Authority (Benin, Bukino Faso, Cameroon, Ivory Coast)
Nile Basin Initiative (Burundi, D.R. Congo, Egypt, Ethiopia, Rwanda Sudan, Tanzania, Uganda, Kenya)
Orange-Senqu River Commission (Botswana, Lesotho, Namibia, South Africa)
Organization of Cooperation for the Development of the Gambia River Basin (Gambia, Guinea, Senegal)
Organization for the Development of the Senegal River (Mali, Mauritania, Senegal) (French)
Peipsi Center for Transboundary Cooperation (Estonia, Russia) (Estonian)
Permanent Indus Commission (India, Pakistan)
Uruguay River Management Commission (Argentina, Uruguay) (Spanish)
Zambezi River Authority (Zambia, Zimbabwe)