Abstract
The 2022 Winter Olympics, officially called the XXIV Olympic Winter Games and commonly known as Beijing 2022, is an upcoming international winter multi-sport event scheduled to take place from 4 to 20 February 2022 in Beijing and venues near the neighboring towns of Yanqing and Chongli in China.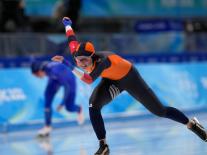 Beijing was elected as host city in July 2015 at the 128th IOC Session in Kuala Lumpur. The 2022 Winter Olympics will be the first Winter Olympics in China, and the last of three consecutive Olympics in East Asia (after the 2018 Winter Olympics in Pyeongchang, South Korea, and the 2020 Summer Olympics in Tokyo, Japan).
The 2022 Games are subject to various concerns and controversies as well as diplomatic boycotts due to the Uyghur genocide and human rights situations in China, with several countries sending athletes but no ministers or officials. Like the Summer Olympics held six months earlier in Tokyo, the COVID-19 pandemic has resulted in the implementation of health and safety protocols, and restrictions on public attendance of the Games.
As its second Olympic Games, Beijing will be the first city to have ever hosted both the Summer and Winter Olympics.
The Opening Ceremony will take place at the National Stadium, which is also referred to as "The Bird's Nest". The stadium previously hosted the Opening and Closing Ceremonies of the 2008 Beijing Olympics and also served as the venue for Track and Field as well the men's 2008 gold medal soccer game. However, the Bird's Nest will not host any sporting competitions during the 2022 Winter Olympics.
The Beijing Winter Games will debut seven new Olympic events: Women's Monobob, Men's and Women's Big Air (Freestyle Skiing), Mixed Team Snowboard Cross, Mixed Team Aerials, Mixed Team Short Track Relay, and Mixed Team Ski Jumping. In total, there will be 109 medal events across 15 sports. Click here to find the full list of events.