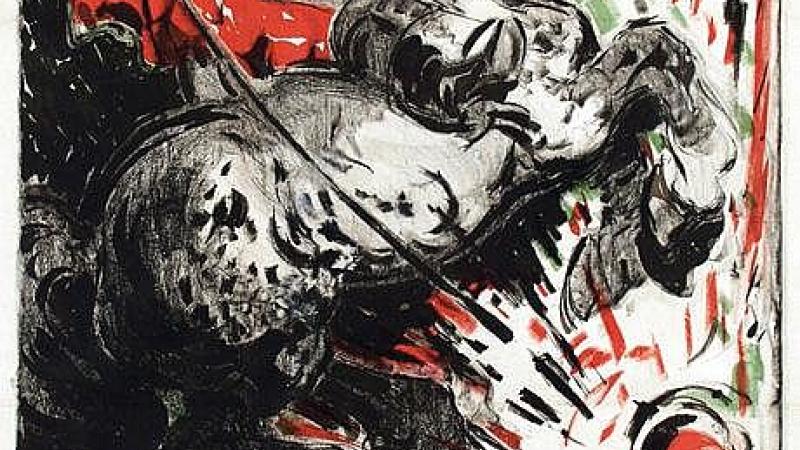 Early 20th century improvements in colour printing and a largely literate population in Britain, France and America meant that posters were becoming more effective than ever before and they were widely used for mass propaganda during the First World War. From Lord Kitchener's famous pointing finger recruitment poster of 1914 to messages promoting thrift, contribution to war work or investment in war bonds, the book First World War Posters examines the progress of the war through 100 colour posters from the UK, USA, Canada and Europe.
Bownes, D. and R. Fleming, Posters of the First World War, Oxford; New York, Shire Publications, 2014.
The First World War, a new low in the annals of armed conflict, coincided with a golden age for the relatively new art of advertising. Striking and colourful posters were produced throughout the years 191418 to recruit soldiers, promote investment, keep up morale and, naturally, to vilify the enemy; prominent artists including Alfred Leete paired bold images with punchy text to maximise impact. The selection in this book offers an informative guide to the range of posters created and to how they were displayed around the nation, and explores the publics increasing dissatisfaction with being patronised and goaded. From the iconic, commanding Your Country Needs YOU! to the anxious domestic scene of Daddy, What Did YOU Do in the War?, and including the infamous depiction of a bayoneting in Back Him Up!, this book puts the reader in the shoes of the Great War man in the street.
Posters of the First World War, London, Imperial War Museums, 2014.
Recruitment, propaganda, rationing, fundraising – during the First World War posters were used to inform and rally the public as never before. This book includes iconic designs, such as Kitchener's pointing hand and 'Daddy, What Did YOU do in the Great War?', plus forgotten gems from Britain, Germany, France, Italy and America. Sourced from IWM's (Imperial War Museums) unparalleled collection, these beautiful and sometimes surprising images provide a fascinating slice of social history. Across the years 1914 to 1918, no other form of popular appeal had such a profound effect on the lives of ordinary people as the poster. Posters were everywhere: in railway stations, in city centres, on buses and on walls, subliminally influencing people as they walked down the street. Each nation had its own distinct styles and designs. But their purpose was all the same – to bind people together, and to uphold their consent in the war. Reproduced in full colour with an introduction by Nigel Steel, IWM's Principal Historian for the First World War Centenary, the book gives a feel for the dynamism and energy of this popular medium at the height of its influence.